Dr Tushar Chauhan (Ph.D.)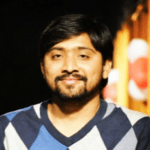 Hey, I am Dr. Tushar Chauhan, Scientific writer and co-founder of Genetic Education Inc. I have completed my Master's and doctor of philosophy degree in genetics. DNA extraction, DNA sequencing, microarray and cytogenetics are my expertise. I had worked with different organizations in the past in research, diagnosis and academics.
My personal information: 
Name: Tushar Chauhan
D.O.B- 31/10/1989
Subject area: Genetics, genomics and cytogenetics
Skills and expertise: DNA extraction, sequencing, microarray and karyotyping.
Hobbies: Reading, writing and finding new stuff on the internet.
Mail me: drtusharchauhan311089@gmail.com