Genetic testing labs can report genetic abnormality by investigating DNA, gene or chromosomes, generate a report and can advise management steps. 
---
Before a decade, it was difficult to run a genetic testing lab especially in developing countries, such types of labs can't survive in the market without doing research projects. But the scenario changed after the coronavirus pandemic; laboratories have earned millions of dollars by doing a simple RT-PCR test.  
They test thousands of samples every day; even small lab setups test hundreds of samples and generate around $2000 to $20,000 every single day. 
The potential opportunity of using the RT-PCR in investigating infectious diseases has caught investor's and big corporations' attention. They want to set up new lab facilities and want to invest millions in the same. So new opportunities are opened for new and experienced geneticists. 
However, setting up a genetic lab is totally a different scenario than the general medical lab and so it's a huge problem for investors! Even an experienced geneticist doesn't know how to set up a genetic testing lab. 
A couple of problems related to the issue are, 
Lack of genetic testing facilities 
Lack of experienced manpower 
Lack of lab setup expertise 
Lack of knowledge regarding the same
From my personal experience, I can say that running and setting up a genetic testing laboratory are two different things, require specialists in the related field. I have my own lab up and I have worked for setting up different genetic labs so I know how hard it is to build.
So I am aware of how to start and set up the genetic lab. This article is a type of startup idea for a new person as well as an experienced one for setting up their own lab. Even though you are a student, take a quick look, it will help you in the future. 
But before directly getting into it, let's quickly go through different types of tests performed in the genetic lab. 
Test performed in the genetic lab: 
Three types of genetic tests are most common; DNA test, gene test and chromosome test. Notedly, DNA or gene tests can be considered as one. 
DNA test investigates the nucleotide sequence and establishes a relation between persons, investigates a crime scene and identifies persons. 
Gene test investigates genes (which encodes proteins) , finds realated abnormalities and the inheritance pattern. 
Chromosome test investigates chromosomes for studying associated abnormalities and investigates genetic or chromosome disorders. 
These are the broad three categories of genetic lab tests, noteworthy when it comes to investigating microbial nucleic acid, it is commonly categorized broadly into the genetic testing or microbial genetic testing facilities. 
Now let's move to how to set up a genetic testing lab.
How to set up a genetic testing lab:
In this section of the article, I will explain points taken into consideration while setting up the lab. Stay tuned, 
Choose a genetic testing service to start
The first step in this process is to select which types of tests you need to include in the genetic testing lab you are willing to set up. Choosing all three genetic testing services under the roof will definitely improve the ROI in the long run but also lifts the budget of lab setup. 
For example, taking the recent COVID-19 scenario into account, investing more in COVID-19, H1N1 and other respiratory testing facilities is more valuable than including chromosome testing along with. 
Chromosome testing needs huge investment, but on the other side, samples are less contrary, investing in only COVID-19 RT-PCR setup can generate huge ROI.
As per my opinion, starting with COVID-19 testing will help to grow faster (in recent time), and can generate more ROI and investment opportunities for other tests. You can take an expert's advice (having substantial experience in lab setup) to get started with lab tests. 
Prepare a blueprint of your genetic lab:
After deciding on lab tests to be included, prepare a blueprint for the project. Two different conditions might be possible for you, either you are looking for investors for your setup or you are preparing a setup for your client or your own.
In both cases, you need to prepare an outline or blueprint to convenience investors for the project (and your experience ultimately shows here!). 
What ideally does a blueprint include? possible points are enlisted here:
What tests are included
How it's done 
What are the requirements needed
What manpower needed
What is the overall budget 
What is the expected ROI
Why are the testing facilities required
The broad planning of the lab. 
These all points must be there in your blueprint and should be prepared in two ways; as a presentation and report. Prepare a presentation around the point discussed above and a report accordingly, circulate it to the investors during the round table meeting. 
If you are looking forward to investors, keep in mind that they will focus on two things; the amount of investment required and the ROI generated. 
Pro-tip
Explain the ROI section in depth, meaning after how much time investors expect returns, what will be the monthly or yearly growth.
If you are preparing a lab for yourself, as a startup, I recommend you to focus more on testing facilities and how you can optimize them to generate more ROI. For example, RT-PCR testing for COVID-19 and Swine flu requires a similar type of lab setup. 
One can include both tests in the portfolio, note that both need different primer and probe sets. In the same setup, you can test other pathogens as well. 
Survey all the genetic testing facilities near you: 
So this can be included in the blueprint but can be discussed separately. Remember, investors will advise you to conduct a survey (that's my personal experience). 
The survey may include information regarding; 
The number of laboratories around yours or in your region 
Their market status 
Tests they perform 
The average cost of each test 
How accurate their results are 
How experienced their manpower is 
What might be their annual or monthly ROI 
 If you are reading this article, Now you are aware of it; conduct the survey before presenting the blueprint of your project and present it to investors or the directorial board when asked. 
It ultimately shows how serious you are about this project. Keep in mind that the survey should be authentic. The investment opportunity highly relies on the results of the survey.
In addition to this, you will also get an idea if your lab will do well in your region or area or not! So the survey must be performed prior. 
 List of instruments required: 
Now assume that you get the investment or your startup is funded, in the next step you will have to select which instruments are required as per the testing facilities. 
For example, COVID-19 testing needs the RT-PCR but not the DNA sequencer (at the diagnostic level) while the H1N1 testing needs both RT-PCR and DNA sequencing but not the karyotyping microscope. 
This step indeed helps to minimize the investment and to maximize the ROI. Take a look at the example of COVID-19 testing facilities: 
| | |
| --- | --- |
| Instruments required  | Instruments don't require  |
| RT-PCR  | DNA sequencer  |
| Conventional PCR  | DNA quantification machine  |
| Automated nucleic acid instrument  | Microscope  |
| RT-PCR software  | Microscope software  |
Remember! 
What to include and what not to include shows how experienced. and dedicated you are! Unnecessary purchases will rise investment and reduce the ROI.
Enlist all requirements:
The type of testing facility and required instruments guide you to select the requirements needed for the testing. A huge portion of the investment goes here on extra utilities including, 
Common lab plasticware 
Glasswares 
Chemicals 
Solutions and solvents 
Reagents 
Other utilities
Micromanagement
If you are planning to start a small-scale genetic lab with minimum investment, then you need to look after everything to cut off the cost. Make a list of utilities and requirements needed on a minimal basis and validate its utility.
(You know I love to explain things with examples.) 
For example, cell culture chemicals, flasks and media aren't required to establish the RT-PCR lab for COVID-19. It can save lacs. 
Think about it! 
Planning at ground level: 
Ground-level planning has an integral role in generating ROI as well as providing ease during the testing. Confusing right! Let me explain, 
The location of your lab setup has a definite impact on your revenue. Research says that the genetic laboratories in big cities and near hospitals have higher and faster ROI. The reason is clear. 
Moreover, a well-set lab can increase working efficiency, ease of testing and overall capacity of technicians & improve ROI. Plan everything starting from how a sample will enter the lab to how it will be processed.  
If you have enough work experience you probably know how to do both.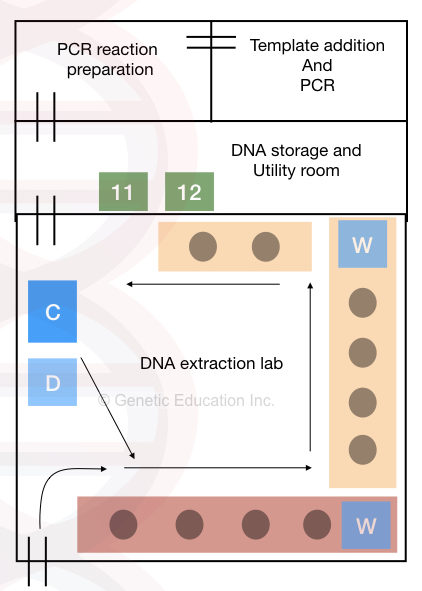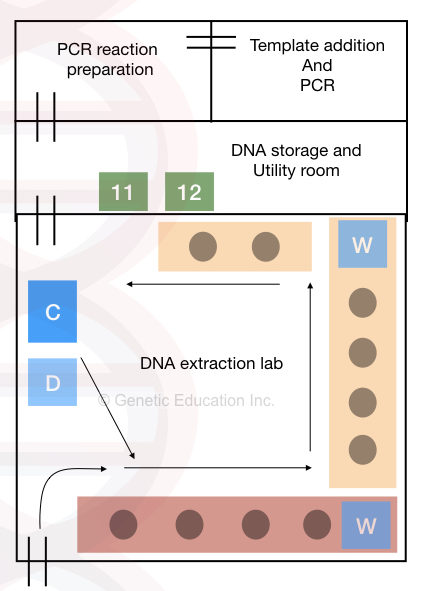 Recruiting manpower: 
Yet another major factor that impacts the overall ROI is the manpower hired. 
In a single RT-PCR run you can test up to 80 samples or even 96. You can run the PCR 3 or 5 times a day and up to 500 samples; an experienced single person or two can do the job. 
What I am trying to say is! If you will hire unnecessary manpower you will have to pay unnecessarily. An ideally small scale genetic lab required, 
Subject expert 
2 to 3 technicians
A head geneticist and diagnostic expert 
HR or marketing expert 
IT expert 
The subject expert will help in designing and optimizing assays, technicians will process samples, geneticists will monitor results and overall assay, a marketing expert will grow the business and an IT expert will provide computation and information technology-related solutions. 
This must be your core and basic genetic testing lab team. As you grow you can expand it by taking the help of HR. 
Ordering kits and reagents: 
Most of the chemicals, reagents and solutions are stored in cool in the molecular genetic laboratory. So once you order it, you can't return it. In addition, kits and reagents used in genetic testing are too costly. So the ordering process becomes crucial to minimize the investment. 
I have a couple of optimization recommendations for you,  
First, Order minimum quantities at the start.
Try to negotiate for future business opportunities with you. 
Ask for the demo kit, free testing sample reagent or chemicals. 
Avoid using local or unauthorized kits, orders from the industry leaders recommended by the test developer, Government or international authorities. Store all the utilities recommended by the manufacturer. 
Standardization and SOP runs: 
One of the crucial steps in setting up the genetic testing laboratory is the standardization process and developing own SOP (system operating system). Though ready-to-use kits are nowadays available but validating each and every reagent, chemical and kit is vital. 
 Every genetic testing lab has to do this and is required at regular intervals in order to maintain the quality of results. The SOP and standardization runs are control experimental runs performed to develop the standard operating system. 
A lab should have its own,
Woking SOP: how employees work in the lab 
System SOP: how the whole system in the lab will work 
Experimental SOP: how experiments (for standardization) will be performed 
Maintenance SOP: how different chemicals and reagents are stored and maintained 
Validation SOP: how to validate or cross-check the results 
Test SOP: how a test will be performed
Quality assurance scheme: 
A genetic lab should have its own internal and external quality assurance scheme. QAS indicates how accurate, authentic and reliable the results are! The QAS should be understood in detail, 
Over a period of time, it is possible that false results may be seen, meaning, what we get will be in accordance with what we want. That's a common limitation of every genetic lab, the reason is the use of sensitive reagents and chemicals like primers, probes, master mixes and dNTPs.
These sensitive reagents might deteriorate, degrade or be inactive over a certain period of time and will produce false results. Consequently, false results will be delivered to the client or patient. 
Labs have to develop a quality assurance scheme that validates the results. Internal QAS validates results in-house while external QAS "cross-validates" results to other laboratories. A combination of both will increase the results accuracy many folds and therefore must be in a lab setting scheme. 
A genetic lab without internal and external quality assurance schemes can't survive in the market for long. 
Safety precautions: 
In a genetic lab, scientists have to deal with hazardous chemicals, carcinogenic solutions, dangerous instruments and lethal pathogens and therefore safety is a must!  
Much like other SOPs, a standard genetic lab should have a safety precaution SOP that must be strictly followed by all working in the lab. 
For example, it's advisable to wear a mask, gloves and goggles while preparing the agarose gel; use and throw gloves after adding EtBr in the solution; do not open the centrifuge while it's running the sample. 
A list of several safety precautions SOP is here and that must be followed. 
Lab safety SOP for handling radio and fluoro labeled chemicals 
Lab safety SOP for handling hazardous chemicals 
Lab safety SOP for handing each instrument 
Lab safety SOP for running experiments 
Apply for approvals: 
To run a genetic lab, it should have several "pre" and "post" approvals. Firstly as a pre-approval process, the performer, head or geneticist should have at least a doctorate or doctoral degree in medical science or medical genetics. And/or substantial experience in a relevant field. 
To test a fetal or prenatal sample, prenatal testing approval (PNDT) must be required.  
In India, a genetic test setup requires NABL (National Accreditation Board for Testing and Calibration Laboratories) approval for conducting tests on various biological samples and in order to generate reports. 
However, for the US, US FDA (Food and Drug Administration) approval is required for testing and generating reports. I will cover how to apply and clear audits for NABL and FDA in some other article or in an upcoming webinar. Till then you can read more by clicking the individual link. 
Wrapping up: 
I have tremendous experience in running and setting up genetic laboratories that need specialized skills and expertise. Although in order to produce reports, one should have Government approval. 
If you are looking for a solution to set up a genetic lab, you can contact us. I and my team will be happy to help you. We can guide you starting from choosing the location to standardize the SOP.
Contact us: Contact for lab setup. 
Common FAQs: